Posts Tagged 'Nemtsov'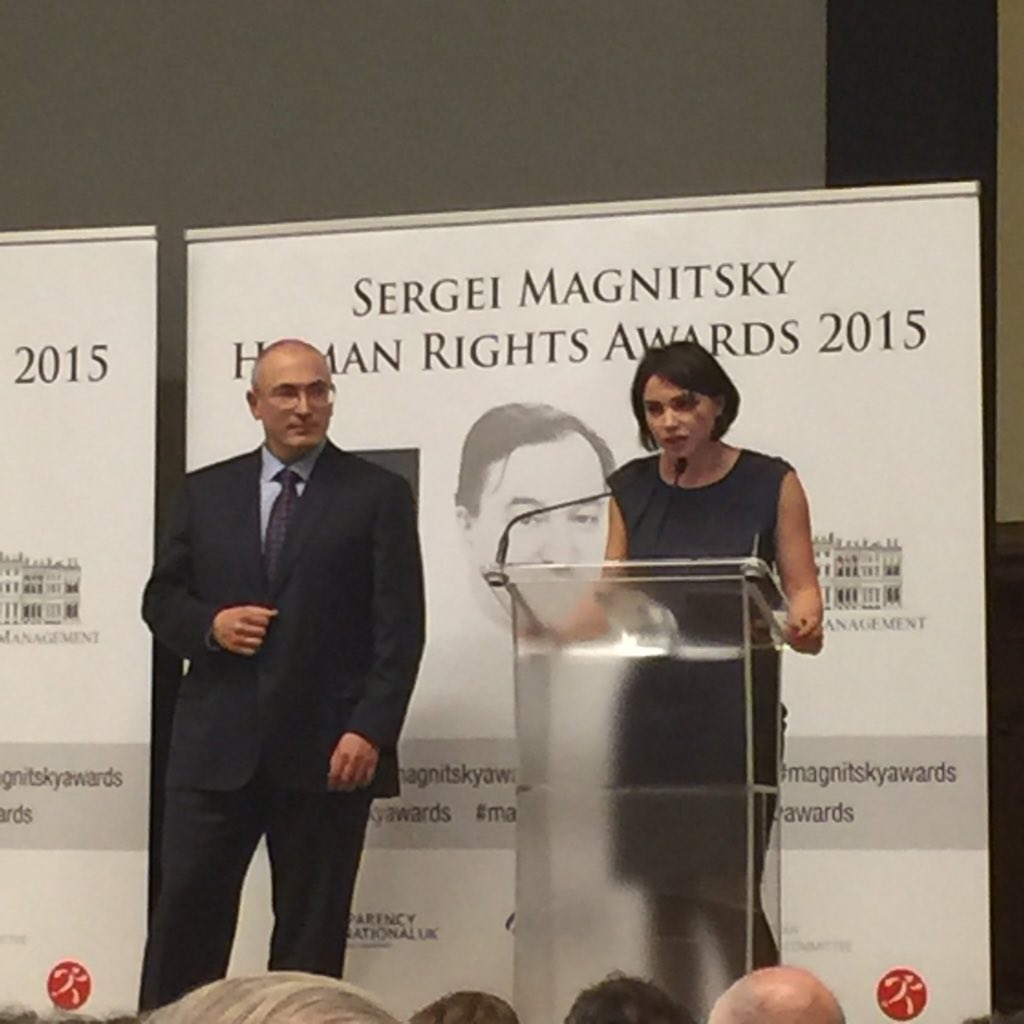 Zhanna Nemtsova receives her father's award at the ceremony in London
Boris Nemtsov, the Russian politician, assassinated near the Kremlin in late February this year, was posthumously awarded the Sergei Magnitsky 2015 Human Rights Prize for Democracy. The prize was received by his daughter Zhanna.
Winner of 2015 Sergei Magnitsky Award for Campaigning for Democracy: (Posthumously) Boris Nemtsov.
Boris Nemtsov, the Russian opposition leader, winner of the Sergei Magnitsky's Campaigning for Democracy Award, was a friend of the Justice for Sergei Magnitsky campaign. Boris was one of the strongest voices advocating for the U.S. Magnitsky Act and the implementation of Magnitsky sanctions in Europe, calling them "the most powerful instrument of pressure on killers and cleptocrats." (see at 27 min of Youtube video of Nemtsov's interview.
On 27 February 2015, just two days before he was planning to lead on 1 March 2015 the "March Spring," a large anti-Putin demonstration in Moscow to protest against the Russian war against Ukraine, and three hours after his live appearance at an independent radio station calling for his supporters to join him, Boris Nemtsov was assassinated next to the Kremlin.
In his last live interview, Boris Nemtsov stated his belief that a large showing of people at the demonstration he was planning to lead, could bring a political change in Russia. He said: "If many people come to demonstrate, this will bring change. This march could be a turnaround point. It could make Kremlin sober. And gradually we will be able to achieve a change in the political course." (see at 44 min. Youtube video).
The Sergei Magnitsky's Award for Campaigning for Democracy was received by Nemtsov's daughter, Zhanna, and presented by Mikhail Khodorkovsky, one of the longest serving political prisoners in modern Russia.
микрозаймы онлайн займ на карту https://zp-pdl.com/emergency-payday-loans.php https://zp-pdl.com/get-quick-online-payday-loan-now.php срочный займ на карту