Tax Officer Olga Stepanova
Name: Olga Stepanova
Position: Head of Moscow Tax Office 28 during 2004-2010
Crime: The authorization in one day, 24 December 2007, of a US$153 million profit tax refund. Olga Stepanova approved the false refund based on forged contracts and fraudulently obtained court decisions without making any appropriate checks required by law
Husband: Vladlen Stepanov (registered a divorce from Olga Stepanova at the end of 2010)
Joint assets purchased since the tax thefts began: US$38 million


Systematic crimes: Between 2006-2008, Olga Stepanova repeatedly authorized fradulent tax refunds. In total US$470 mln (11.2 billion rubles) of fradulent profit tax refunds were organized by the same criminal group, using the same scheme and paid into the same bank (Universal Savings Bank). In April 2011, Moscow Tax Authorities announced that an internal audit identified a further $163 mln (4.4 billion rubles) of Value Added Tax refund that were also illegally authorized by Olga Stepanova in 2010.
Olga Stepanova is a key member of the Klyuev Organized Crime Group. Stepanova systematically authorized fraudulent tax refunds. Her husband wired proceeds to Swiss bank accounts and to purchase luxury property abroad for his wife and for her colleagues at Moscow tax office No 28.
Secret travel with the head of the Kluyev Organized Crime Group:
Immediately after authorizing two huge fraudulent refunds, one for $107 million in 2006 and one for $230 million in 2007, Olga Stepanova and her husband secretly traveled with Dmitry Kluyev, the owner of the bank that received the fraudulent refunds that she had authorized.
In 2006 immediately after authorizing the $107 million fraudulent refund, Olga Stepanova and Vladlen Stepanov joined Klyuev in Dubai and then travelled to Geneva where Mr. Stepanov set up secret corporate bank accounts. They then traveled back to Moscow together on the same flight.
In 2007 immediately before the theft of the Hermitage companies and authorizing the $230 million fraudulent refund, the Stepanovs joined Kluyev in Larnaca, Cyprus, where he was meeting with other members of the Kluyev Orgiinzed Crime Group who were to play key roles in that fraud.
After that fraud the Stepanovs vacationed together in Dubai with Kluyev and lawyers Pavlov and Mayorova, who prepared fictitious court claims used in the tax refund fraud.
The Stepanovs have been compensated extremely well by the Klyuev Organized Crime Group amassing a personal fortune of at least $38 million.
| | |
| --- | --- |
| Officially Declared Annual Income for the Stepanovs (combined salaries) | Assets and cash acquired by the Stepanovs after Olga Stepanova authorized the illegal tax rebates |
| $38,381 | $38,912,000 |
Immediate accomplices: Elena Anisimova and Olga Tsareva, both deputy Heads of Moscow Tax Office No 28. Olga Davydova, Eкаterina Frolova, Olga Tzymai, and Olesya Shargorodskaya – officials of Moscow Tax Office # 28 who signed the fraudulent tax refund requests totalling $153 million (see Approval of Refund signed by Olga Stepanova and her colleagues).
Proceeds of the crime
See below for a list of the assets Stepanov's family now owns: Real Estate, Offshore companies, Offshore Bank accounts, Travel. Compare it to their declared income.
Land plot
Land plot in Arkhangelskoe Development just off Rublovo-Uspenskoe Shosse, Moscow Region. Registered to Vladlen Stepanov's pensioner mother.
Location
Coordinates: +55° 46′ 43.27″, +37° 18′ 37.81″

View Larger Map
Ownership documents
These are excerpts from the Centralised Real Estate Registry. They show that a 64,000 sq.f. (5,946 sq. m.) land plot was purchased in the name of Anastasia Stepanova, Mr. Stepanov's 85 year old pensioner mother whose pension is a few hundred dollars a year. The land was purchased when it was worth millions and is now worth $12,212,000.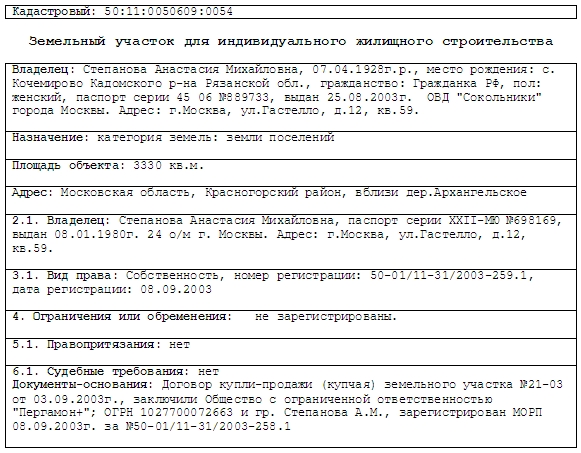 Please find all land registration documents on the dedicated page.
Public cadastral maps:
Please see maps for cadastral number 50:11:0050609:0054 and cadastral number 50:11:0050609:0003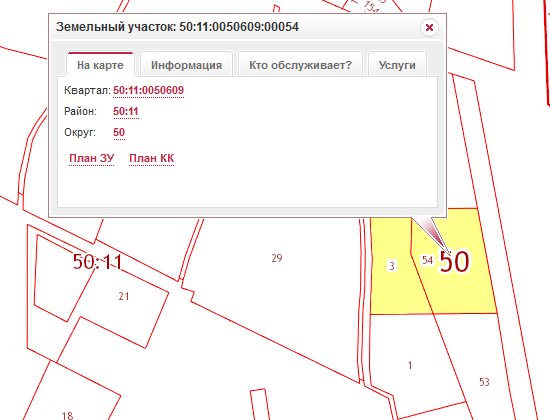 Moscow Country House
Estimated Construction cost: $8,000,000
Market Value with the land: over $20,212,000

Designed by Alexei Kozyr, Russia's most expensive architect, and custom built for the Stepanov's. Winner of the Second Best Country House in Russia.

House: Two houses with total area of 11,840 sq.ft. (1,100 sq.m.) on 64,000 sq. ft. (5,946 sq. m.) of land.
Main house 8,611 sq. ft. (800 sq.m.) with wine cellar, gym, billiards room, sauna, and home cinema, guest house 3,229 sq. f (300 sq.m.) and two car garage.
Address: Arkhangelskoe, Poselok Dachny;
Currently not registered anywhere. It's clearly visible from space, see Google Maps (+55° 46′ 43.27″, +37° 18′ 37.81″). All of the black colour surrounding the arrow is the roof. The guest house is to the south east and is in the background below.

View Larger Map
See more images and drawings of house in Arkhangelskoe

Seaside villa in Bar, Montenegro
10 down payments were made totalling $471,000. Payments started being made two months after Mrs. Stepanova approved the fraudulent tax refund. It is clear from the bank account number that these payments were in addition to the money in the Stepanovs' offshore corporate accounts.
The villa now has a market value of $700,000.
[Download this document in PDF]

Dubai Villa
Villa F48 on the Palm Jumeirah, Dubai. Registered to Vladlen Stepanov
Villa: An "Atrium Entry Mediterranean "5" bedroom Signature Villa" (The 6th bedroom is for the servant and is therefore not mentioned). Built by Nakheel. http://www.palmjumeirah.ae/property-info.php?developmentId=1&styleId=25.
The villa is 4,900 sq. feet (452 sq.m.) It has 6 bedrooms, 7 bathrooms, 574 sq. feet (53 sq. m.) of balconies and a two car garage. The floors are marble and the woods are mahogany. The villa sits on a land plot with a garden, a swimming pool, and its own beach with a view of the spectacular new Atlantis Resort.
The villa has a market value of at least $3,000,000.
Address: Plam Jumeirah Dubai, Frond F, #48
Purchase Date: 14 September 2008
Vladlen Stepanov stays at the villa with his wife. See records from the Dubai Property Registry:

See more photos of villa F48:

2 Apartments at Keminski Resort Palm Jumeirah, Dubai
Address: Apartments 530 and 428, Kempinski Resort, Plalm Jumeirah, Dubai
Under construction and so not yet registered.
The apartments are each 1,812 sq. feet (183.3 sq. meters) including balconies of 290 sq. feet (26.9 sq. meters). They each have two bedrooms and a living room and 2.5 bathrooms
Purchase Price: $4,000,000 ($2,000,000 each)
Purchase Date: Payments begin in 2007 and continue into 2008
See more photos and floorplans of apartments and the Kempinski Residences:


Kempinski price list showing price of an A2 Apartment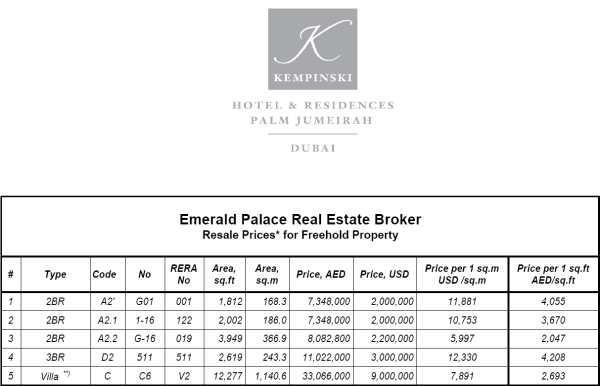 Payment orders for purchase of Apartments 530 and 428
Seven payment orders totaling $2.7 million of the total $4 purchase price of the two apartments. All payments are made in 2007 and 2008. Each payment order clearly indicates that the payment is made on behalf of Vladlen Stepanov. The payment orders indicate the apartment unit numbers and the type from the price list. Each apartment is an "A2" which is a 2 bedroom 3 room apartment that sells for $2,000,000. It is clear from the bank account number that these payments are not being made from the Stepanovs' offshore companies. In other words, the money used for these payments is in addition to the money in the Stepanov's offshore corporate accounts. This same bank account was also used to make payments for two more apartments for two of Mrs. Stepanova's deputies in Moscow Tax office $28.
[Download this document in PDF]

Please check Mrs. Stepanova's Deputy at Moscow Tax Office, Olga Tsareva's and Elena Anisimova's $2 million dollar apartments and the hidden offshore payments made to buy them. All payments were made from the same bank account used to purchase the Stepanov's two apartments.
Travel records showing that after Mrs. Stepanova approved the fraudulent tax refund the Stepanovs traveled to Dubai 9 times and spent 95 days there. The records also show that they often use Moscow's VIP departure services, an expensive service which include private check in, a private bar and lounge and expedited customs clearance. A sign at the Sheremetevo VIP private customs post says "We would like to remind highly placed officials that you must still comply with the customs laws of the Russian Federation" least they forget that their positions do not put them above the law. Nothing is written there about compliance with other laws of the Russian Federation.
[Download this document in PDF]

The two companies hold the equivalent of $11,000,000 in cash.
Arivust Holdings Limited (Cyprus)
Report on Arivust from Cyprus companies Registry showing that the company was set up on 26th January 2008, just one month after Mrs. Stepanova approved the fraudulent refund. Note that the company is not in good standing even though it continues to maintain bank accounts in Credit Suisse, Zurich
Signed letter from Vladlen Stepanov as beneficial owner of Arivurst to the company's nominee directors agreeing to indemnify them from any and all claims or actions that may arise as a result of providing the Cyprus authorities with the information relating to the Company's activities during the accounting period ending December 31, 2008. He also agrees to take personal and full responsibility for all the possible legal or tax consequences. He confirms that all information provided to his accountants Paracus Co. Ltd has been recorded correctly by them in the company's financial statements. It is not known whether the Swiss bank accounts were reflected in those statements and if so, how the source of funds that came to those accounts was explained.
[Download these documents in PDF]

Aikate Properties Inc. (British Virgin Islands)
British Virgin Islands Financial Services Commission Registry report on Aikate Properties Inc. See information of Swiss accounts below.
Letter from Mr. Andrew Moray Stuart, the Sole Director of Aikate Properties Inc. and Maureen Lettsome, Registered Agent of Aikate Properties Inc. confirming that Mr. Vladlen Stepanov is the sole and ultimate beneficial owner of Aikate Properties, Inc.
[Download these documents in PDF]

Arivust Holdings Limited (Cyprus)
Accounts in Credit Suisse, Zurich
0835-1300256-72 USD
0835-1300256-72-1 EUR
IBAN USD CH38 0183 5130 0256 7200 0
Statements from a Euro bank account at Credit Suisse, Zurich showing 5 payments totalling EUR7,100,000 (US$11,000,000) being transferred to the accounts of Arivust Holdings Limited. The payments were all made in the period of one month.
[Download these documents in PDF]

Aikate Properties Inc. (British Virgin Islands)
IBC N 1382955
Address: Commonwealth Trust Limited, Drake Chambers, Tortola, British Virgin Islands
Account 0835-1488763-52 in Credit Suisse, Zurich
Statements from Euro and USD bank accounts at Credit Suisse, Zurich showing payments totalling EUR750,000 and US$650,000 (over US$1,600,000 in total) being transferred to the accounts of Aikate Properties, Inc.
[Download these documents in PDF]

Olga Stepanova's and Vladlen Stepanov's tax return for 2006-2009. They declared an average of annual income of $38,381 combined during the same period when they received the equivalent of $11,000,000 in the Swiss accounts of their two offshore companies and over $27,000,000 in real estate in Dubai, Montenegro and Russia.
[Download this document in PDF]